Let us have a look at what a google ads search campaign is? Search campaigns in google ads is something that lets you place ads across the vast network of Google search results. You can show ads to people who are actively searching online for your products and services. This is all about Google Ads Search Campaigns in Google ads. To know more, you need to know that Google ads work on an auction system that happens every time a user performs a keyword search. To get a lead and win in the Google ads auction and see your Google advertisements appear on the relevant keywords you will be required to optimize your quality score and the bid amount. The higher the score of your quality, the better will be your ad positioning. Let us have a look at the factors that affect your quality score.
Factors that affect the quality score of Google Search Ads Campaign
1. The aptness of your Google ad to the search query.
2. The significance of your keyword to your ad group.
3. The relevance of the ad to its landing page.
4. The background click-through rate (CTR) and of the ad and its group.
5. Overall historical account performance.
These are the factors that might affect the quality of your score. Well, there are several benefits of having a good score, let us have a look at the same.
Benefits of having a high-quality score In Google Ads Search Campaigns
with the help of a high-quality score, you will notice that your ads will display more often, in better positions on the SERP- the top vs the bottom of the page. This will help you get more clicks and conversions without having the need to raise your bids.
Google has the capability of rewarding the advertisers with high-quality scores by lowering their cost-per-click (CPC), thus helping to improve the ROI.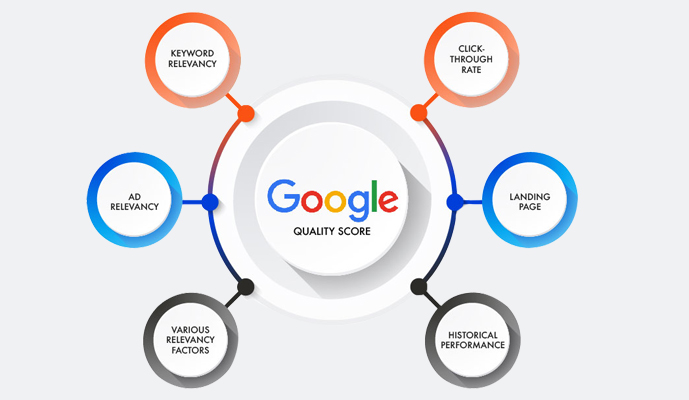 These are the advantages of having a high-quality score. Now let us understand the importance of Google ads and why they even happen to appear
How Do Google Ads Search Advertising Appear?
The Google ads are focused on the keywords. Advertisers use a list of keywords to target that are relevant to their business offerings. We can say that it is an online advertising program that allows you to create online ads to reach audiences that are interested in the products and services that you offer. This platform, which is the Google ads platform, runs in pay-per-click (PPC) advertising which means that you have to pay every time a visitor clicks your ad.
There are several advertising mediums and methods out there which makes it hard for one to decide which one to rely on and which one can be considered the best fit for your business. You also must have noticed several influencers and salespeople asking you to invest in several things without really giving you the explanation of why to do the same. Let us have a look at the benefits of Google Ads.
Advantages Of Google Ads Search Advertising
You must be looking for the reasons why one should make use of Google ads, well there are several reasons behind the same and let us have a look at it.
The massive reach of Google

In today's era, Google has elevated itself beyond a brand to a verb. If we look at the meaning of Google according to Dictionary then it is defined as, "to use Google search engine to obtain information about (someone or something) on the world wide web".

The reason behind the same is that when people have a question that needs to be answered the first stop that they usually happen to visit is Google. For instance, there are times when you want to know the reason for your headache that you have been having lately, what you do is, Google it! Most of the users happen to Google the stuff that they want an immediate answer to. The search engine happens to handle 2+ trillion searches like these per year and over 5 billion searches per day.

Among these users and searchers are the people looking for the solutions to the problems that your business can offer. If these users ever happen to Google their answers to the problems then there are chances they have come to your page for the answers. If you make sure that you can help them with the appropriate and the right answer to something you will be able to convert this user into a lead with the help of a Google search campaign.

Capabilities that allows targeting a range

When it comes to Google, there is something for every business and every prospect at each and every stage of the journey of the buyer. Bidding on broad keyword search terms like "accounting software" will show your ads to different prospects at the earlier stage of the product research process and allow you to fill the top of your funnel with two very simple techniques.

1) Collect their information with your post-click landing page and start sending them informative content that proves your authority to them.

2) If you are not able to convert them, make use of retargeting software to draw them back until they do.

These are the two simple techniques that you can make use of. Another important technique that you can make use of in adding your customer base in bidding is by bidding on the long-tail keywords. This technique is generally less expensive and is worthy of attracting the attention of several customers who are worthy of looking at what exactly you offer.

The first page of Google results gets between 71-92% of all traffic.

Harness intent

The only difference between people that you happen to reach with the help of Google search ads and the people that you happen to reach with the help of other forms of advertisements is their intent.

For instance, people are not looking for advertisements and to be advertised on social media platforms. They are not looking for the solutions to their problems that plague their everyday life. On social media, people look for family pictures, pictures of people on vacations, and more stuff like that. If you happen to advertise where it is not needed, there are chances that you might get tuned out.

Looking at the search network, though you are not advertising to the people who are not looking for the same, you are advertising to the people who are looking for something specific, like the best post-click landing page platform for agencies. When your ad happens to appear, people get the answers to their questions instead of interrupting their browsing experience.

Have and maintain full control of your campaigns all the times

There might have been times when you might be having jump hurdles to run the ad campaigns that reach as many people as ads can. The beginning and end of these campaigns might take time and also resources that could be used elsewhere.

Buying ad space with software is known as problematic advertising. It is considered easy for a trained employee to do the same. With the help of a little guidance and knowledge, they will be able to start and stop campaigns and will be able to reach the right people at the right price and also do it all in an instant manner. This way you will be able to allocate your resources and your time to the other initiatives.

Bring any budget to the table

Winning a click can cause some businesses hundreds of dollars. Looking at the legal industry it is noted that there are several long tail keywords that are reaching around $1000 per click. There are several keywords that do not cost much, and even if they do, the advantage of using ads is being able to put restrictions on your daily budget, maximum bids, and more.

You have full control over the budget of your Google search ads campaign. Where you can have control of everything starting from the maximum bid on the ad to the daily budget of the campaign.

See the results laid out in an easy to understand format in the Google ads

You will not be able to figure out how to improve your strategy if you are not aware of what is the mistake that you are committing or where you are going wrong. There are a few analytics dashboards that make it nearly impossible to figure out what that is. Thankfully Google makes it easy and simple for everyone to understand. You can find out the basic information like impressions, clicks, keywords, budget, etc. not only this, you can also get even more granular with Google Analytics integration. This will help you to analyze and see how the visitors are behaving on your website. You will be able to see what they clicked, where they went next, and also how long they spent their time on your website.

Get quicker results than SEO

SEO is considered one of the most important things that act as a backbone for several most visited websites. The posts and the pages that you happen to see on these pages are not only well written with the help of researched keywords but also they are on the sites that have several backlinks.

When you happen to start with Google, your chance of leapfrogging all the organic results happens to grow exponentially, and also it grows in an easier way too.

These are the reasons why one should opt for Google Ads Search Campaigns will only work and get results if you are good at maintaining and using the right strategies for your Google ads. With the help of search campaigns, you will be able to place ads on the vast network of Google.

You will be able to show ads to the people actively searching online for your products and services. If you are looking for help with Google Ads Search Advertising in Google ads then you can seek help from Swastik Web Technology, it is considered one of the best firms in terms of providing the services or Google ad campaigns. For more information, you can mail us at [email protected]